Mike Graff, USPTA
mike@baselinetennis.net
Currently, Mike is the President of Baseline Tennis.  Mike's previous assignments with Baseline Tennis include, General Manager of Farmington Tennis Club, head pro at Birmingham Athletic Club and ran the day to day operations at the Birmingham Racquet Club. He previously spent six years as the Sports Director at The Sports Club of West Bloomfield where he had worked since 1987. He has been very involved in all aspects of Southeastern Michigan tennis, serving on the SEMTA board, USPTA Midwest Board, Competitive Training Center Coach, USTA District Endorser, Cystic Fibrosis Tennis Auction Ball and many others. He played four years of Varsity Tennis at Oakland University and graduated with a degree in Marketing in 1991. His top tennis achievement may have come when he and three other Michigan professionals were inducted into the Guinness Book of World Records for 111 hours of continuous doubles play in 1990.

Matt Parker, USPTA
Director of Tennis
matt@baselinetennis.net
Matt has been the Director of Tennis at BRC since 2011. He graduated from Ferris State University's Professional Tennis Management Program in May of 2004 and since then has served for five years as the Director of Tennis at the Birmingham Country Club. Matt's teaching experience includes time at the Westmoreland C.C. in Chicago as well as the Van Der Meer Tennis Academy in Hilton Head, South Carolina. He enjoys working with all ages and levels of play and looks forward to serving all BRC's clientele.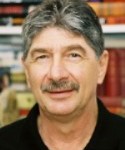 Mark Reznich
markr@baselinetennis.net
Mark returned to the Detroit area after spending 22 years in Europe coaching tennis.  He has a long list of accomplishments with over 30 plus years of teaching tennis.  Some of Mark's credentials include: Chairman of Junior Development of SEMTA for four years in the early 80's, travel coach for many internationally ranked juniors, as well as he was the National Coach of Malta which included captaining their Davis Cup and Federation Cup teams.  Mark has developed himself as a high-level instructor and coach who cares deeply about getting the most out of his students.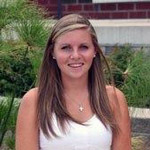 Kelly Smith, USPTA
kelly@baselinetennis.net
Kelly is a USPTA certified teaching professional and a graduate of Spring Arbor University where she played #1 and #2 Singles and #1 Doubles. She has been playing tennis for 16 years and has 10 years of teaching experience, 8 of which have been with Baseline. She currently teaches at BRC and Orchard Lake Country Club and previously taught at Birmingham Athletic Club and various Parks and Rec facilities in the area.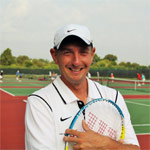 Kevin McGuffie, USPTA
Director of Junior Tennis
kevin@baselinetennis.net
Kevin is a USPTA certified professional with 15 years of teaching experience. In addition to his Elite level USPTA certification, Kevin is also USTA 10 & under certified and Cardio/TRX certified. In 2017 Kevin was named the USPTA Midwest Division Michigan professional of the year. Most recently Kevin was a pro at Lifetime Fitness in Rochester Hills and is now excited to join the pro staff at the Birmingham Racquet Club. Kevin's coaching background includes coaching high school tennis and basketball at both the junior varsity and varsity level.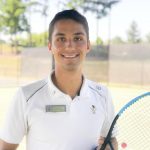 Chad Ruthig
chad@baselinetennis.net
Chad is a USPTA Certified Tennis Professional and graduate of Ferris State University where he received his bachelor's degree in Professional Tennis Management, Marketing and Business. Following graduation in 2015, Chad joined Peter Burwash International for six years, the world's largest tennis management company. During his tenure with PBI, he served in several roles stretching across the country and the Bahamas. A few of his positions included Director of Tennis at Creighton Farms Country Club in Aldie, Virginia; Tennis Professional at Carmel Valley Ranch in Carmel, California, and a Tennis Professional at the top 10 rated tennis resort in the world, JW Marriott Desert Springs Resort & Spa, Palm Desert, CA. Chad is excited to bring his variety of experiences to BRC and return closer to family in the great state of Michigan.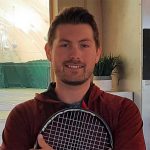 Kyle St. Pierre
kstpierre@baselinetennis.net
Kyle played 4 years of Varsity high school tennis and 1 Year of college tennis at Rochester College. He has been teaching tennis for the past 6 years and is currently rated a 4.5 in USTA. Kyle loves teaching tennis to all ages. Kyle's positive energy on court provides a safe and fun learning environment for junior and adult players of all levels.