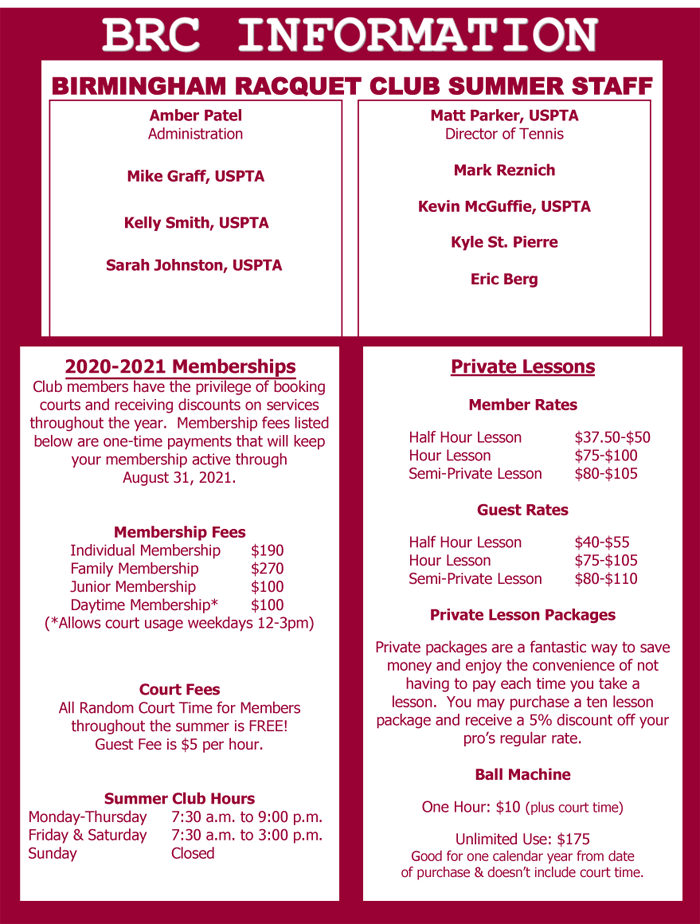 PRIVATE LESSONS
Member Rates
Half Hour Lesson – $37.50 – $50
Hour Lesson – $75 – $100
Semi-Private Lesson – $80 – $105
Guest Rates
Half Hour Lesson – $40-$55
Hour Lesson – $75 – $105
Semi-Private Lesson – $80 – $110
Lessons less than 1 hour will be pro-rated based on individual pro's hourly rate.
PRIVATE LESSON PACKAGES
Private packages are a fantastic way to save money and enjoy the convenience of not having to pay each time you take a lesson. You may purchase a ten lesson package and receive a 5% discount off your pro's regular rate.
Payment, Pro-ration, Make-up and Cancellation Policies: Full payment is due upon sign up. BRC does not pro-rate programs unless a student is signing up for a program after the start date. Make-up classes are not guaranteed; however, students are permitted 1 make-up class per session if space allows and make-ups cannot carry over to the next session. BRC has the right to cancel or shorten the length of a class if the number of paid participants is less than four people.